Synagogues in Germany – A Virtual Reconstruction"
Opening on November 9 in the Hochbunker, Friedberger Anlage, Frankfurt am Main
2021/11/05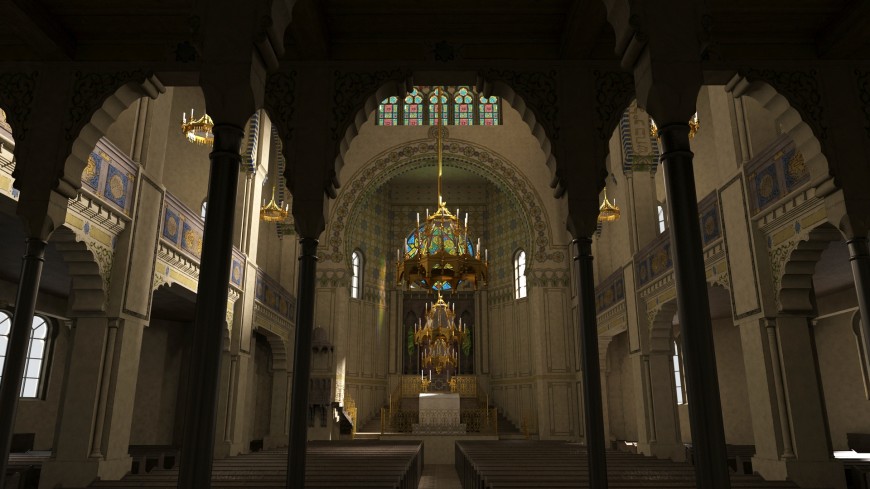 On November 9, 1938, Frankfurt's largest and most magnificent synagogue of the Jewish Religious Society, was destroyed by the National Socialists. French forced laborers had to build an air raid shelter on the foundation walls of the destroyed synagogue in 1942/43 to protect the "German" population from the horrors of the war.
On the occasion of the celebrations of "1700 years of Jewish life in Germany", the Initiative 9. November e.V. will open the exhibition "Synagogues in Germany – A Virtual Reconstruction" on November 9, 2021, using our digital technologies to show the virtual reconstruction of more than 25 synagogues that were destroyed by Nazis in 1938 along with over 1000 others. This exhibition developed by TU Darmstadt, which has been traveling the world, will now be permanently placed in the memorial and meeting place.
The exhibition visualizes the cultural loss and urban significance of the destroyed synagogues and shows the former cultural flourishing of Jewish communities. The presentation inevitably leads visitors to the question of why these buildings and their communities no longer exist. The digital images but also virtual reality applications erase barriers to Jewish culture – the mostly unknown space of a synagogue can now be explored. The first part of the exhibition shows the social and political context of the time as well as the extent of the destruction. In the second part, projections, animations and virtual reality convey the destroyed splendor of the houses of worship. In addition, visitors can explore their architecture and history at computer workstations.
Digitization enables contemporary access to political memory work for schoolchildren as well as young people and adults. It's a statement against current anti-Semitism and as a building block for the remembrance of the Shoa and complements to the existing exhibitions in the air raid shelter("Music as a Form of Spiritual Resistance – Jewish Musicians 1933 – 1945," "Ostend – A View of a Jewish Quarter," "Displaced Persons – From the Föhrenwald DP Camp to Frankfurt's Waldschmidtstrasse," "Jewish Life in Germany Today").
The opening hours of the exhibitions are on Sundays from May to November, 11 am to 2 pm, and now in November additionally on Wednesdays from 5 pm to 7 pm. Guided tours by appointment by email: Fuehrungen@initiative-neunter-november.de
We would like to thank the Hessian Ministry of Science and Culture, the Kulturamt Frankfurt am Main, the Stiftung Polytechnische Gesellschaft, the Stiftung Citoyen as well as the many private donors for their generous support. Thanks to the good cooperation between the Office for Building and Real Estate of the City of Frankfurt and the Initiative 9. November e.V., it was possible to realize the use of the 2nd upper floor in compliance with fire protection measures.